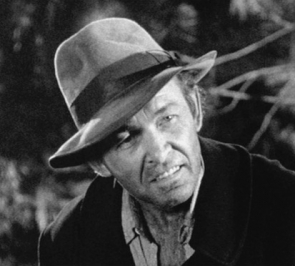 The chief support of the accusers in this story. For generations, he was considered a disgrace to the city. As head of the family, he could not provide a decent living for his loved ones. Occupying an outcast position, he and his relatives live in a decrepit barn, resembling a landfill, not a cozy house.
Ewell has no ambitions, so he spends most of his time in bars, drinking up the last pennies. Local rich persons allow him to poach to feed eight hungry children. You feel pity for Bob because his miserable existence is due to a kind of genetic memory. It seems that their clan is doomed to poverty. But it is precisely hopelessness that turns him into a malicious personage trying to repay all those around with hate. It is perceived as garbage, which should not be contacted.
At the trial, Bob plays the role of a comedian, who is not comfortable testifying against a person. Most likely, he suspects about Tom's innocence but is afraid, to tell the truth. Even though his daughter is a victim, no one shows sympathy for him. He serves only as a means of vengeance, convenient to use at the moment.
He formulates the accusations towards Tom in the most brutal form, wanting to cause fear and disgust of residents to blacks. But his remarks only irritate the crowd and the jury, so lawyers are trying to get rid of his presence quickly. Bob likes being in the spotlight because he was given a chance to complain about his fate in public.
After the conviction, the Maycomb society returns to ignoring Bob, emphasizing his true place. Feeling the power, Ewell is not ready to part with this feeling and begins to threaten the relatives and defenders of Robinson. Racism is becoming the only means of exaltation in the social hierarchy, especially for someone who has nothing more to boast about.
Bob Ewell Photo Gallery